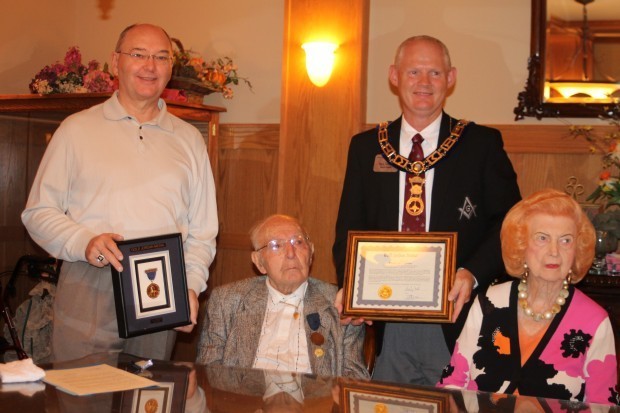 The pins Gus Kontras proudly wears on the lapel of his blue sport coat help tell his story — a story that is the American Dream.
The large gold lapel pin is new and designates the 99-year-old Kontras as Nebraska's oldest living Master Mason. Kontras received the Gold Jordan Medal at a ceremony in July, an honor that he says "means a whole lot and is very sincere."
He has been an active member of Lincoln Masonic Lodge 19 since he moved to the city in 1936. He has been the eldest member of this lodge since 2002 and also wears the Brown Jordon medal indicating this honor.
For a new businessman arriving in Lincoln 76 years ago, he found the Masons offered an opportunity for him to meet people and to serve his community.
"I was brought up to do more," Kontras said, noting that he was attracted to the values of the Masons that include "to always be upright and to treat all my fellow members in a positive way."
http://journalstar.com/lifestyles/misc/state-s-oldest-mason-has-a-story-to-tell/article_9014f01b-ceab-5ad0-8b04-05120ebf8a72.html